MedStar Washington Hospital Center
Headquarters
Washington, DC
Size 5000+ Employees
Industry Health Care
---
Washington Hospital Center may be the official hospital of the Washington Redskins, but you don't have to be a professional football player to make use of the facility's services. The hospital, at the heart of the MedStar Health system, serves about 455,000 patients living in and around the nation's capital each year. Washington Hospital Center has approximately 925 beds and includes specialized care centers for cancer, cardiovascular conditions, and neurosciences. Other services include organ transplantation and a regional burn treatment center, as well as emergency air... More
MedStar Washington Hospital Center – Why Work For Us?
About Us

 | 

Why Join Us?

 | 

Benefits

 | 

Development


The Difference is Monumental
MedStar Washington Hospital Center is the largest private hospital in the nation's capital. This year, we celebrate our 50th year of indispensable service to the nation's capital and metropolitan region. Founded in March 1958, when three specialty hospitals merged into one, the Hospital Center occupies a 47-acre campus that it shares with three other medical facilities in Northwest Washington, D.C.
A proud member of MedStar Health, the not-for-profit Hospital Center has 926 licensed beds, offering primary, secondary and tertiary health care services to adult and neonatal patients. In fiscal year (FY) 2007, 46,209 inpatients—including 4,556 births--and 389,803 outpatients were treated. In addition, more than 50 other hospitals referred nearly 6,300 of their most complicated medical cases to Washington Hospital Center.
Cardiovascular Programs
The hospital is home to one of the nation's top cardiovascular programs, with 11,000 inpatient cardiac admissions last year. Its cardiac catheterization and electrophysiology (EP) laboratories are among the busiest in the country. A total of 14,987 cardiac catheterizations and 5,300 electrophysiology procedures were performed during FY 2007. There were 1,863 open-heart surgeries and five heart transplants during the fiscal year. One of the area's first heart transplants was done at the Hospital Center on May 22,1987.
Washington Cancer Institute
Washington Cancer Institute (WCI) at MedStar Washington Hospital Center treats more cancer patients than any other program in the nation's capital. WCI provides comprehensive, interdisciplinary care that includes surgical, radiation and medical oncology services, access to the latest clinical trials, counseling for patients and families, cancer education and community outreach programs. During FY 2007, the Cancer Institute diagnosed 2,334 new cancer cases; there were 79,720 outpatient visits during that period. The Center for Breast Health saw 15,242 patients.
Transplant Programs
Transplantation programs for kidney, pancreas and heart place the Hospital Center as one of the busiest on the East Coast. During the last fiscal year, 105 kidney transplants and seven combination kidney/pancreas transplants were performed. The Hospital Center's transplantation program ranks among the top five percent in the nation for patient outcomes, and consistently exceeds the national average.
MedSTAR
Perhaps the Hospital Center's most far-reaching presence is MedSTAR Transport. The air ambulance service has carried 43,503 patients since its inception in 1983, and in fiscal year 2007, flew 3,210 helicopter missions. The American College of Surgeons consistently recognizes the MedSTAR Trauma program as one of the nation's best Level I shock/trauma units. In fiscal year 2007, there were 2,522 trauma admissions. In addition, there were 77,113 Emergency Department visits, including 19,077 admissions. The Hospital Center provided $86.3 million in unsponsored care during FY 2007.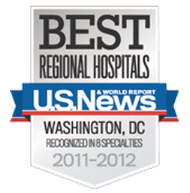 ​​​
​​

​​

This is the employer's chance to tell you why you should work for them. The information provided is from their perspective.
Working at MedStar Washington Hospital Center
Posted by employees
Employees say it's "OK"
44

ratings
61% of the CEO   21 ratings
  Former Patient Access Officer in Washington, DC (US)
Pros: It has great job opportunities,the best medical benefits, education and pay is not bad at all but most of all you meet some lifelong friends and comrades. – Full Review
More MedStar Washington Hospital Center Ratings & Reviews ( 44)
MedStar Washington Hospital Center Awards and Accolades
Let us know if we're missing any workplace or industry recognition – Add an award
Worked for MedStar Washington Hospital Center? Contribute to the Community!